Wisconsin Education Policy Outreach and Practice (WEPOP) is a group of former classroom teachers at the University of Wisconsin-Madison dedicated to teacher-driven conversations about education policy. WEPOP functions as a graduate student "clinic" within the Wisconsin Center for Education Research, and is directed by Annalee Good. Through the WEPOP Clinic, graduate students and practicing Teacher Fellows partner across schools, districts, the Wisconsin Department of Public Instruction and UW-Madison.

Our Mission
Build PK-12 teachers' capacity around federal, state, and local policy initiatives.
Provide an inclusive, low-stakes space for teachers to collaboratively engage with policy issues.
Foster on-going, teacher-directed policy discussions with advocates, policymakers, and researchers.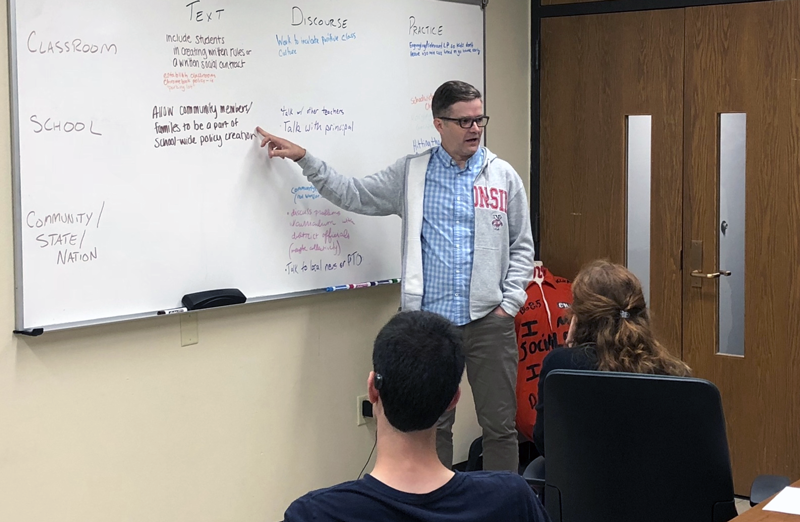 Emily Anaya
Janel Anderson
Virginia Downing
Jerry Dryer
Lydia Gandy-Fastovich
CJ Greer
LaShanda Harbin
Deonte Iverson
Anthony Lizarraga
Kate Roberts
Sadie Fox Barcos*
Carlos Jose Canela*
Molly Carroll
Lee Changhee
Laura Chávez-Moreno*
Rachel Feldman*
Jon Harper
Stephanie Jureidini
Matthew Parish
* = Co-founder
Matthew Belz
Carmen Montopoli
Mindy Mulryan
Phonekeo Siharath